Guided Hikes Within
Table Mountain National Park
Path and Peak Adventures provides safe, expert-led mountain hikes on Table Mountain and around Cape Town, South Africa. Are you ready to have an adventure? Book your hike with us today!
Our aim is to create incredible outdoor experiences across Table Mountain National Park and to encourage a mindful connection with nature.
As Path and Peak Adventure guides, we truly care about the guests having a true and authentic experience. We ensure there is ample time for photography, flower and wildlife observation, and simply being quiet and still in nature.
Cohesion and community are also very important factors and a big effort is made to promote a good energy and vibe as well as the chance to make long-lasting friendships.
Book now to experience the best of Cape Town hiking with a qualified, experienced – and friendly – hiking guide.
Why Choose A Guided Hike?
Why Choose Path and Peak?
At Path and Peak Adventures we'll make sure that you stay on the right path and have a fun - and safe - experience on the mountain.
Beautiful Cape Town Hikes
Hikes To Get You Started

|
Path and Peak Adventures offers expert mountain guiding across the Table Mountain Nation Park. Below are great options for anyone wanting to experience a range of what the Park has to offer.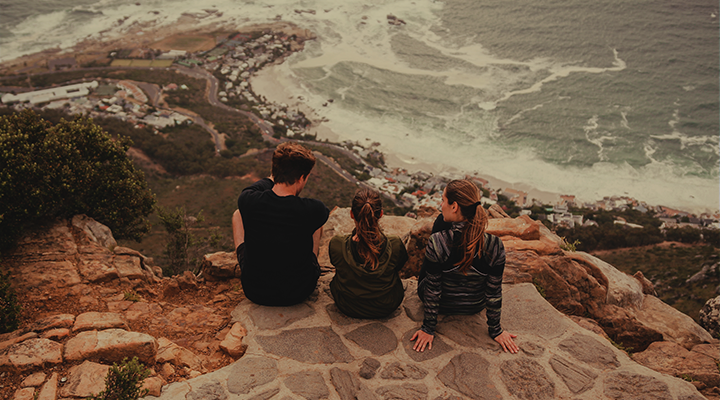 An epic hike that provides all that Cape Town hiking has to offer – in a shorter time.
The Lion's Head hike is arguably one of the most awesome mountains to climb in all of South Africa. It is short and sweet and provides the most accessible and beautiful 360 degree views of Cape Town compared to Table Mountain.
This is the oldest and most direct route up Table Mountain – a Cape Town classic.
Platteklip Gorge hike and route follows a series of rocky steps up a city-facing gorge until you reach the top, 1087 m later. Get fun facts from your expert guide on the flora, fauna and history of Table Mountain as well as some interesting anecdotal stories.
This route is for the more adventurous, brave at heart souls.
Experienced hikers with a taste for adventure will love this route. The India Venster hike starts at the lower cable car station and begins with a sharp ascent for the first 30 minutes. Things become more forgiving as the trail winds its way up the mountain.
What our clients say about their hiking adventures with us!
We absolutely loved our hike up India Venster with Nick! He knows the mountain and knows about cool spots you wouldn't know to check out if you were trying to do a trail by yourself! He also knows a lot about the animals and fauna of the area. He was great company and a great photographer too! We were privileged to see Himalayan Tahr, Dassies, and lizards. We would highly recommend Path and Peak to anyone visiting Cape Town!
Hands down my number 1 experience during my trip to Cape Town. The Lions Head hike is good fun on its own, but Nick provides a combination of insight, local knowledge, safety and humor that I doubt you can find elsewhere. This is a great afternoon hike where Nick creates a good group dynamic and provides entertainment along the way. I highly recommend this one to anyone thinking of doing a hike up Lions Head.
Very efficient booking process for the Kasteelspoort hike. Kyle led our hike. He is a well informed guide and led us up and down safely. Coffee and biscuits came as part of the package. Kyle set a pace that was comfortable for the slowest members of the group, and was also very patient with people who have a fear of heights. I'll definitely be using Path & Peak's services again.
I can highly recommend Path and Peak. Communication was great from the start, informative and helpful. Nick led me up the India Venster trail and the experience will stay with me always. Aside from an amazing hike, there was great advice and information throughout. Just go for it, you won't regret it
Shaun was fantastic! He showed us really interesting vegetation along the way, took fabulous pictures and was really and truly great company for a 4 hour hike! I highly recommend Kasteelspoort for the views, the level of difficulty and fun!